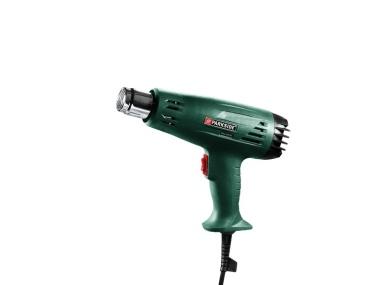 Files
Brand Name
Parkside
EAN
IAN
96232
Product description
HEAT GUN PHLG 2000 B1
All-round tool for stripping, shaping or heating
Sturdy housing made from fibreglass reinforced plastic
Can be stood upright for stationary use
Can also be used to light barbecues
Features and equipment
1 Air inlet
2 ON/OFF switch & temperature and
air volume regulator
3 Nozzle
4 Protector nozzle
5 Flat nozzle
6 Reducer nozzle
7 Barbecue lighting nozzle
Q Included items
1 Heat gun PHLG 2000 B1
1 Protector nozzle
1 Flat nozzle
1 Reducer nozzle
1 Barbecue lighting nozzle
1 Operating instructions
Q Technical information
Nominal voltage: 230V∼ 50Hz
Power consumption: max. 2000W
Air volumes: Setting I: ca. 300 l /min.
Setting II: ca. 500 l /min.
Temperatures
(Jet outlet nozzle): Setting I: ca. 350°C
Setting II: ca. 550°C
Protection class: II /
The sound pressure level (A) of the device is typically
less than 70dB(A).