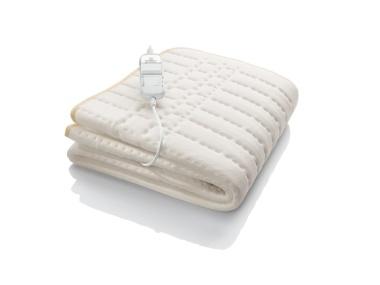 Files
Brand Name
Silvercrest Personal Care
EAN
IAN
96962
Product description
Heated Underblanket
Rapid warm up
Extra-warm foot zone
Automatic shut-off: adjustable to 1/3/6/12 hour(s)
Automatic switch down mode: after approx. 3 hours (from level 5 and 6 to level 4)
Description of parts and features
1 Control unit
2 Function indicator
3 Temperature setting switch
4 Switch-off time switch
5 Plug-in connector
Included items
Check that all the items are present and that the
electric underblanket is in perfect condition immediately after unpacking.
1 Heated underblanket
1 Control unit / Plug-in connector
1 Operating instructions
Technical data
Model: SWUB 85 B2
Type: W1
Power supply: 220–230V/50–60Hz
Power consumption: 60W
Dimensions: Approx. 150 x 80cm
Protection class: II /
Electrical field strength: max. 5000V/m
Magnetic field strength: max. 80A/m
Magnetic flux density: max. 0.1 millitesla.